Firstly, we want to share a big big congratulations to Talwiss our reception manager, who has just given birth to a beautiful baby boy. A heart felt welcome to baby Hope, and also welcome to you lovely lot to our first 2023 newsletter, updating you on the work going into our Butterfly projects. Meanwhile, our hearts go out to all those who are suffering in South Malawi due to the devastation caused by Cyclone Freddy, and we urge anyone reading this newsletter to contribute anything they can to the people who have lost so much.
Please follow this link to donate.

Butterfly has continued to make improvements this year, with focus on the staff kitchen which has now been renovated and is in full use! The new staff kitchen will also introduce a low budget cooking options to backpackers travelling on a shoestring. We have rehoused our workmen into a new and improved space next to youth club, and the youth club itself has been completely renovated too, with lots of lovely new artwork! We are also excited to be installing a solar system this week, and we are investing in more solar hot water geysers for the lodge. Next we will be focusing on building a new private workspace for our interns and volunteers, which will be tucked away and overlooks our private beach!
Thanks to the wall calendar sales we've commenced our new tailoring workshops three times a week, at PUNDU disability centre, which started in January '23. These workshops will continue for 6 months. Donations have provided materials as well as two sewing machines at PUNDU disability centre. There are twenty participants who also contribute their own materials to be able to make their own designs and sell them, allowing them to earn their own income. We will continue to fundraise for this project so that after completing their 6 months training at PUNDU they will continue a further 6 months of workshops at MPAMBA disability centre.

PUNDU have also opened a morning nursery school, charging a small fee which helps the group generate an income. The nursery currently caters for about 20 children. Donations would be greatly received as they are in need of more nursery school equipment such as- toys, books, stationary, arts and crafts materials etc..

We also introduced permaculture gardens at PUNDU. We were overwhelmed by the eagerness and efforts of the group who helped us to plant bananas, avocado's and passion fruit trees, pineapples, lemon grass, beans, turmeric, ginger and more! The group were keen to learn and care for their new edible garden and have managed to keep everything that was planted alive so far! We will aim to deliver sessions on permaculture practices over the coming months.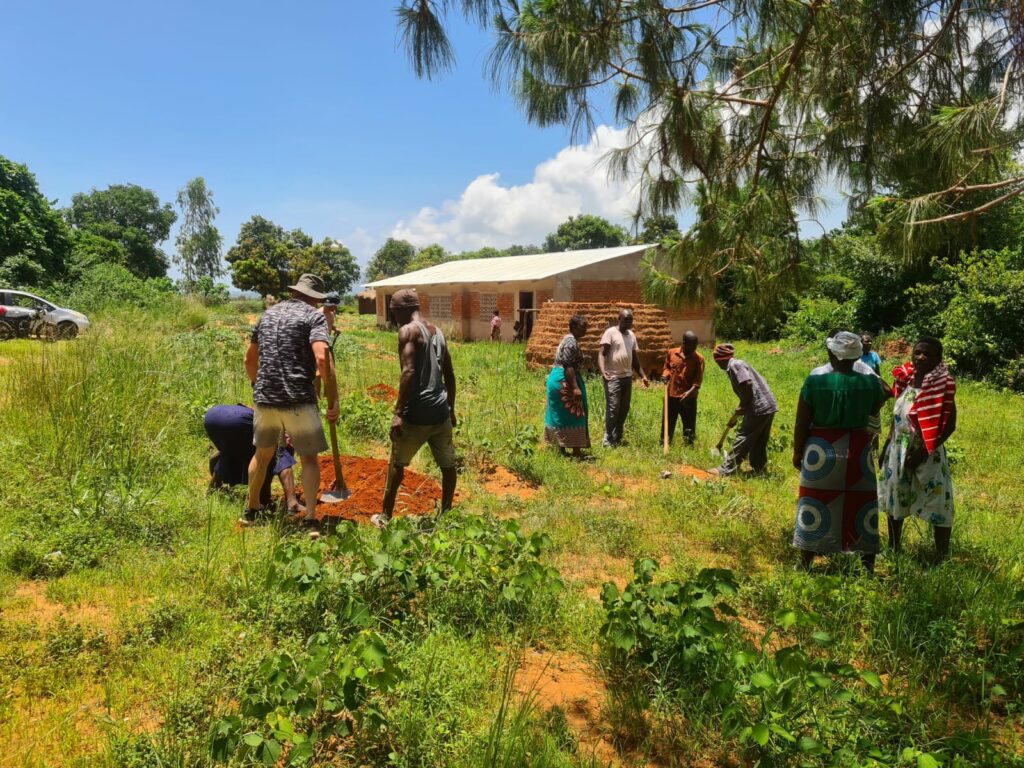 Butterfly Space
Support the general upkeep and progression of all our Butterfly community development projects.
MSPC
Offset your carbon by purchasing a tree pack a school.
Disability Centres
Help purchase materials for vocational training sessions at Pundu & Mpamba disability centres.
Youth Club
Assist with finishing touches for the building renovation.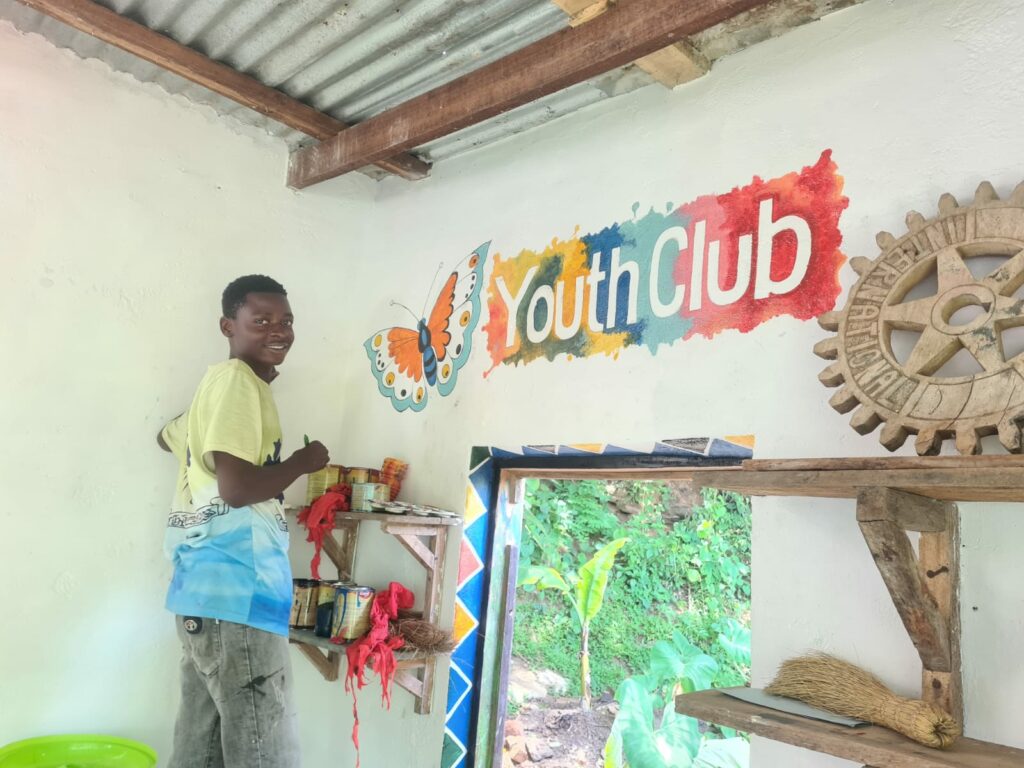 Butterfly has made some connections with the charity Ripple Africa. They will be visiting Butterfly Space this month to teach our staff and the local community how to build wood reducing stoves – which use a third of the amount of fire wood compared to normal stoves. We are currently in the process of gathering lists of all our staff and local community members who would like wood reducing stove built into their kitchens. The wood reducing stoves will also be implemented within Butterfly lodge as well as the other projects Butterfly work with. By teaching the staff and community members they in turn can teach the larger community who are interested in the environmentally friendly wood saving stove.

Our next collaboration project with Ripple Africa will continue in December. They will contribute to our 'carbon offset packs' and goals, donating fruit trees for the schools involved with the MSPC programme. Planting trees is something we are passionate about here at Butterfly space, and partnering with Ripple Africa is an opportunity we are excited to watch grow!
Call for 2023 Remote Volunteers
Volunteer at Butterfly
This is a call for 'remote volunteers' with an interest in searching for businesses wanting to 'go green'. Not only is 'going green' good for the environment, it enhances brand image with its clients who value environmentally sustainable practices AND it's financially rewarding. 'Green incentives' such as alternative energy tax credits are some benefits for corporations 'going green'. UK councils are now implementing sustainable frameworks to encourage businesses to reduce their carbon footprint. Unfortunately, those big bad conglomerates are using 'green washing' to their advantage, as to offset huge tax deduction and in the meantime looking like Marta's for doing so. We are currently searching for 'remote volunteers' with an interest in researching corporations who want to fund eco-friendly businesses for the right reason not the wrong ones. From the comfort of your living room you could support Butterfly Space by researching fund opportunities through green corporations to continue to develop and expand all our current projects. If you are a student studying environmental or developmental studies this could be the perfect opportunity for you. Or if you already have connections to said corporations perhaps Butterfly Space is an eco-friendly project you could promote as a 'green incentive'. Visit our website to learn more about Malawi and the projects we are involved with at Butterfly Space and send us an email if you think this is something you could be interested in.
Thanks to the donations of the Youth Club Renovation fundraiser last year the Youth club centre is now up and running and in full swing. Volunteers and children helped to paint the murals inside the youth club making it a fun and interactive space for the kids to enjoy games, exercise, activates, storytelling, arts, crafts and educational topics etc. The youth club centre is open Wednesday, Friday and Saturday 3-5PM for local children whose parents work and need child care support after school. The children often arrive early with beaming faces wanting to engage in the fun and games. It's lovely to hear laughter and singing of the children echoing over Butterfly Space in the afternoons. Another new aspect to the youth club is Maxwell who has now joined the Youth Club team supporting Martha. During Friday sessions Maxwell will be implementing the '21st century starter pack' to the kids at the youth club which is an introduction to computer study skills, goal setting, financial literacy, communication & networking, and the power of the Internet. Maxwell has been delivering a tester session to eight local schools in Nkhata Bay to spark interest and inspire local children to participate in this free educational workshop and attract them to Butterfly's youth club. Luke, a former volunteer created the '21st century starter pack' and taught Maxwell how to deliver the pack and helped Maxwell improve his computer literacy using Microsoft Word, Excel, and PowerPoint so that Maxwell can educate Nkhata Bay's community, not just the children at the youth club!

Dorota, a lovely Polish, dreadlocked Rastafarian volunteer was set the task to complete all the murals in the youth club. Dorota and her husband, created and painted all the designs with the assistance of local teenagers that she supports in Nkhata Bay. The youth club murals were completed in three weeks. Dorota then designed the murals for the staff kitchen and will tackle the reception area next!

Dorota herself is one of the many women who had been travelling through Africa (for 3 years) ,then got to Malawi and never left (there seems to be a few of them about!). She arrived in Malawi in 2015 and started her own charity Tonga Heritage Charity (aptly abbreviated to THC) to support local children in Bwelero village, a small community near Nkhata bay. Dorota too has had a fair share of ups and downs due to COVID but is still here continuing her mission. She will also be using the youth club space on Thursday and Sunday for resident teenagers to keep them off the streets and inspired. Dorota is currently making school bags for the best students in Nkhata Bay and hoping to collaborate with PUNDU to sew more.

A big thank you to our previous volunteers over the last few months- Yvette Hattinger from Switzerland spent a month at Butterfly researching nutrition, playing with the kids at youth club, making posters for the nature trail, and helping Josie sow seeds for the permaculture gardens. Yvette loved learning new things and living at Butterfly verified to her that Malawi is indeed the 'warm heart of Africa'.

Archie Shapeero-Lon from the UK, who studied Environmental science, volunteered due to his interest in protecting the environment. He worked with Josie with the Malawi Schools Permaculture Clubs, distributing trees to remote schools, delivering resources for the teachers to be able to deliver their permaculture sessions to the students, and helped with the overall management of the MSPC project. Archie's friend Henry also visited for a few weeks, and he helped us prune our trees around the lodge, creating more light to plant food and install solar. Henry then made amazing carvings of an eagle, a lion, and an owl using the chainsaw, with the wooden stumps! They can now be admired here at Butterfly Space. Thanks guys!

Marty Beggs, a learning disabilities nurse from Northern Ireland, whose stories typically end in a riddle or pun, is currently volunteering with the youth club, and helped us to refurbish and deliver workshops to the kids. Marty also helped to map out the permaculture designs at Stepping Stones school and PUNDU disability centre, and planted a verity of trees with Mr Marely and the other volunteers at Pundu and Stepping Stones.

Kelly Symonds a social worker and writer also from the UK, just travelling through, who has helped out with the newsletter. Check out some of her travel blogs and her travel fiction book on syd-kelly.com
Offset your carbon with MSPC
Join MSPC on their mission to offset carbon in 2023! Malawi Schools Permaculture Clubs (MSPC) supports teachers in rural Malawi to establish permaculture clubs in their school to teach valuable lessons in climate change. Planting trees are integral to the MSPC programme as they are a crucial factor in keeping the air clean as well as producing a year-round supply of nutritious foods, which is why we are now selling 'Carbon offsetting' packs! As trees grow, they take in carbon from the air and store it in wood, plant matter, and in soil. As atmospheric carbon is being soaked up, air quality is improved. Anytime you use a plane, train or car, you create atmospheric carbon. Planting trees is a great way to offset your carbon footprint whilst also helping the communities here in Malawi. We offer varying 'carbon offsetting packs' which range from £5 to £60. Each tree seedling costs approx $1 and every donation here will go to directly buying a variety of different trees that we will ensure are planted and cared for.
Caro has now been in her position as headmistress since August at Stepping Stones and has been busy setting up the new vocational centre. In December the vocational training started with the baby basket weaving and a beauty programme. The baskets are donated to the near by hospital for new-borns, along with other necessities for new-borns. The hospital has just had their first successful delivery of baby baskets that have been weaved at the school.

The beauty programme is a pilot scheme's aim is to empower young women in the community to krun their own businesses. There are currently ten girls completing the four-month training course ending in May. The course comprises of hair, makeup, nails, business management, and entrepreneurial skills in setting up a beauty salon. They also receive a starter kit to set up their own business. At the end of March, they'll start their internships in local salons for two days a week to practice their skills. The local salons have been very supportive, wanting to encourage young girls to become up and coming entrepreneurs and open their own businesses.

In mid-February, a troop of volunteers joined the MSPC team to support the teachers and students to plant trees and edible plants at the school. We focused on water management, and planted over twenty fruit trees including avocados, bananas, papayas and custard apples, along with passion fruit vines, lemon grass, vetiver root grass, aloe vera, turmeric, ginger, pineapples, chilli and jalapenos! The children are excited to see them grow and care for these plants.

Year 8 have just completed their two mock exams and are now boarding at school to prepare for their final exams in May. Fifteen students are boarding at the school to enable year 8's to concentrate fully on their studies and have no distractions from home. We're wishing them good luck for their final exams!

The new school kitchen has now been completed and is now fully functional. The kitchen staff are very happy with their new and improved space, which they so needed as the school continues to expand. There is also a new media room and library being built which has been funded by Blackbuild and the Datum foundation. We are just waiting for the roof and floor to be fitted, and then we can start installing the equipment, including laptops adn computers. A new drainage system has also been installed to divert water away from the newest buildings school, to protect the school against the rainy season.

A huge congratulation to two of our teachers who graduated from Perivoli school trust a UK charity established in 2019. Perivoli provides a two-year training course to stimulate and educate in 'early years'. The teachers are now qualified in 'early years' education and we celebrated with them at their graduation in Mzuzu. Another teacher will also graduate in November.

And finally, Stepping Stones had a huge turnout of one hundred children for our fun day activities, at the beginning of March. Alice, the director visited of Stepping stones whilst the children enjoyed painting animal masks and snacks were provided.
Wondering what to bring with you or what you can send to help out? We are constantly working on project & lodge improvements and are looking for a variety of items that could assist in our community development. Check out our hefty Wish List for project specific equipment and materials. If you can't source specific things but have space in your luggage, we could always use baby clothes, reading glasses, batteries, towels, bedding, first aid kits and solar charging headlamps/portable batteries. We are currently in the process of establishing fundraising pages through third party platforms such as Facebook, GoFundMe, Chuffed and Smile to make monetary contributions possible. All funds raised will be put directly towards community development efforts. Follow the social media links below to stay up to date. We thank you for your contributions and extend our gratitude for your generousity and ongoing support!