Nkhata Bay is a bustling port town on the rocky shores of Lake Malawi. The town has a lot to offer, and is full of charm and welcoming locals. You can easily find the food and clothing markets selling fresh fruits, vegetables, fish, colourful chitenges, and second hand items, as well as bigger shops and grocery stores. There is a selection of local restaurants serving cheap and delicious food, many lively bars, tailors, carving, curio and art shops, clinics, pharmacy's, a post office, banks and ATM's. See our Useful Information page for more details on Nkhata Bay town.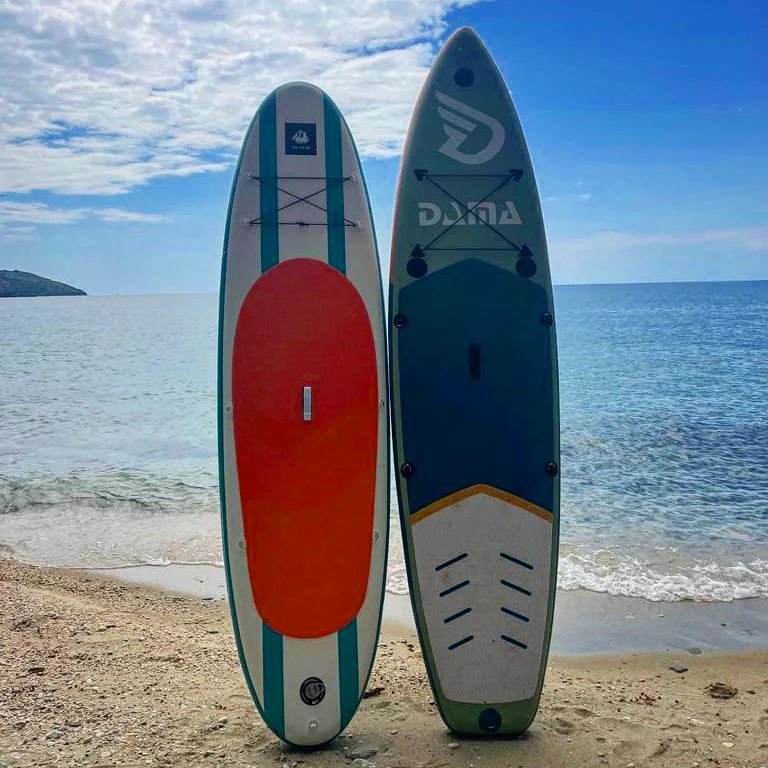 ACTIVITIES AT
BUTTERFLY SPACE
Guests at Butterfly Space can enjoy free paddleboards and snorkel equipment to explore the surrounding area. There is also free access to our community gym, slack line, hammocks and pool table. We host popular music events & open mic night so please look out for our events on the chalkboard at the reception!
Other fun activities include:
Peanut butter making workshop at Kakumbi village with Halima, one of the talented chefs in our Restaurant.
Massages; full body, head, neck, shoulder from our 'women's group' professionally trained massage ladies
Boat trips along Lake Malawi with Monkey Business
Motorbike tours and lessons with Honeyman.
Learn to cook traditional meals with Chef Friday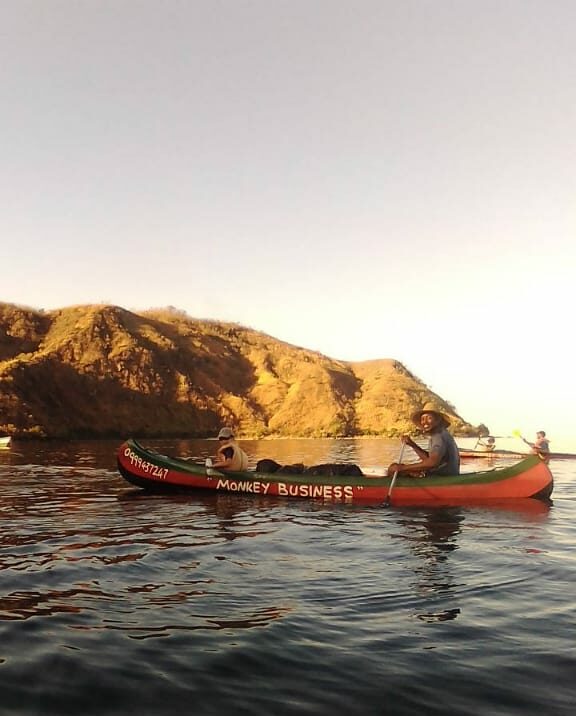 Monkey Business is the leading adventure company in Nkhata Bay. Their professional tour guides can take you on a fun-filled adventure on stunning Lake Malawi. With its magnificent shoreline, you'll be gliding on the amazing turquoise waters during expeditions that range from morning/ afternoon exploring, to week-long expeditions. Their guided trips will be in 5-meter-long, two-man kayaks and canoes. You can choose to head north or south – a one-way paddle or return trip. All equipment is included, plus food for full-day/multiple-day trips. 
Full-Day Guided Kayak Tour $35 pp. 
Half-Day Guided Kayak Tour from $20 pp.
Kayak Hire $10 per day pp.
TRIPS TO THE SOUTH-Kayak to Dambo Hide-away and Kande Beach. 3 days (2 nights). Continue your journey south or return to Nkhata Bay by road. Visit isolated fishing villages and beautiful unspoiled beaches. Buy fish straight from the dug-out canoes and cook on open wood fires. $60 per day, per person.
TRIPS TO THE NORTH-See the dramatic landscapes of the North. Bush camp at Lion's Cave, a remote lakeside village set in the mountains. Meet local children, play games, and sing songs around a fire. Explore Usisya's underwater swim-throughs and Ruarwe's stunning waterfall. $60 per day, per person.
BOAT TRIPS WITH MONKEYBUSINESS
CLIFF JUMPING, BEACH BBQ, VOLLEYBALL & FISH-EAGLE FEEDING
Experience a delicious traditional Malawian style BBQ along with engaging activities such as snorkeling, visiting the exhilarating and beautiful cliff jumping spots, and play volleyball on the golden sandy beaches. Lake Malawi is also home to the magnificent Fish-Eagle. During the trip we will see these amazing birds in action, swooping down towards the boat, and taking fish from the lake, where you can take amazing photos and videos up close!
Prices from just $20 pp (or $10pp without lunch)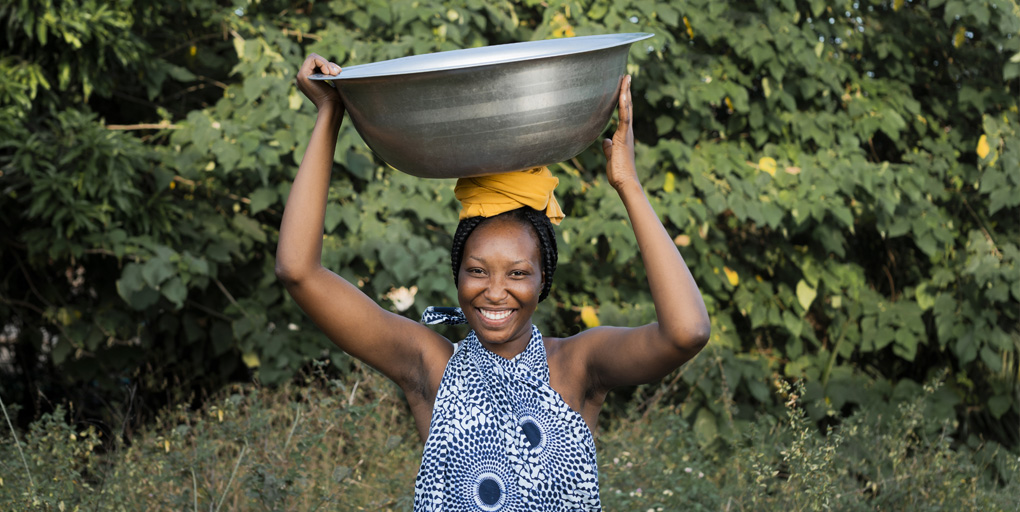 Experience traditional Malawian life – walk through the villages and on the edge of the jungle. See how local people live and cultivate their land. Learn about how they plant cassava, what they depend on and how they construct their homes.  Walk from Njaya Lodge to Lusukwe beach via these villages. When we reach the beach, feel free to have a swim, snorkel and jump off rocks into Lake Malawi. After lunch, head back to Chikale Beach via kayak.
Experience some of the most stunning African sunsets from the comfort of a boat on Lake Malawi. The sun sets behind the mountainous backdrop of Nkhata Bay, where you can enjoy a couple of 'Sun-downer' cocktails from Butterfly Bar, an evening swim in the lake and stare in wonder at the blanket of stars once the sun has gone down.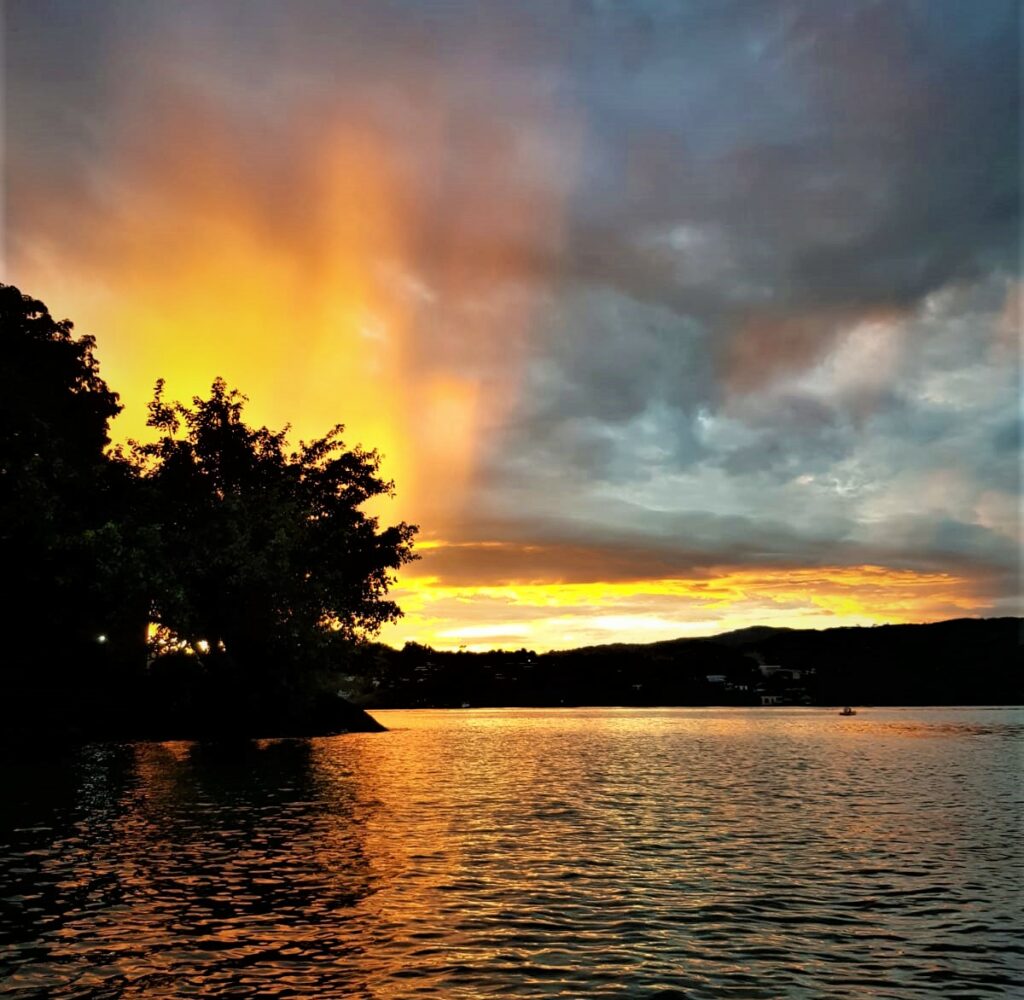 HIKES & TOURS WITH HONEYMAN
Honeyman is a local entrepreneur who has started his own honey farm on his family's land. This is a way for him and his family to produce raw natural local honey which provides an income, while preserving the forests on their land which is located at the foot of Bungulu Mountain. Honeyman offers hikes through the beautiful jungle, which pass through his honey farm. He will explain the processes involved in farming honey, and you can visit the traditionally made bee hives, before continuing up to enjoy the beautiful views and nature on Bungulu mountain. His honey and homemade peanut butter are available for sale most of the time, and are delicious! Order directly with him!
Honeyman also has a motorbike that can be hired at a daily rate, and he offers motorbike tours and lessons for those who want to learn (at your own risk!).
He also offers trips to the 'Hidden Waterfall' which is around 30km outside of Nkhata Bay. The waterfall has a small hydropower station that harvests power for local villages. It is a beautiful and special place to visit, undiscovered by most!
His hike tours are competitively priced and start from $10 pp Whatsapp him on +265883175115 for more info!
Enjoy a professional massage from our fully trained therapists, who learned professional massage skills through workshops held by expert volunteers at Butterfly. Their services are available to guests any day of the week. Please inform reception if you would like to book a massage. Please note, our therapist's speak limited English, so it is important to communicate any health issues with our reception team before your massage. Choose to have your massage on our private beach, or in your room.
Prices from: 5000mk for 20 minutes. Tips are encouraged 🙂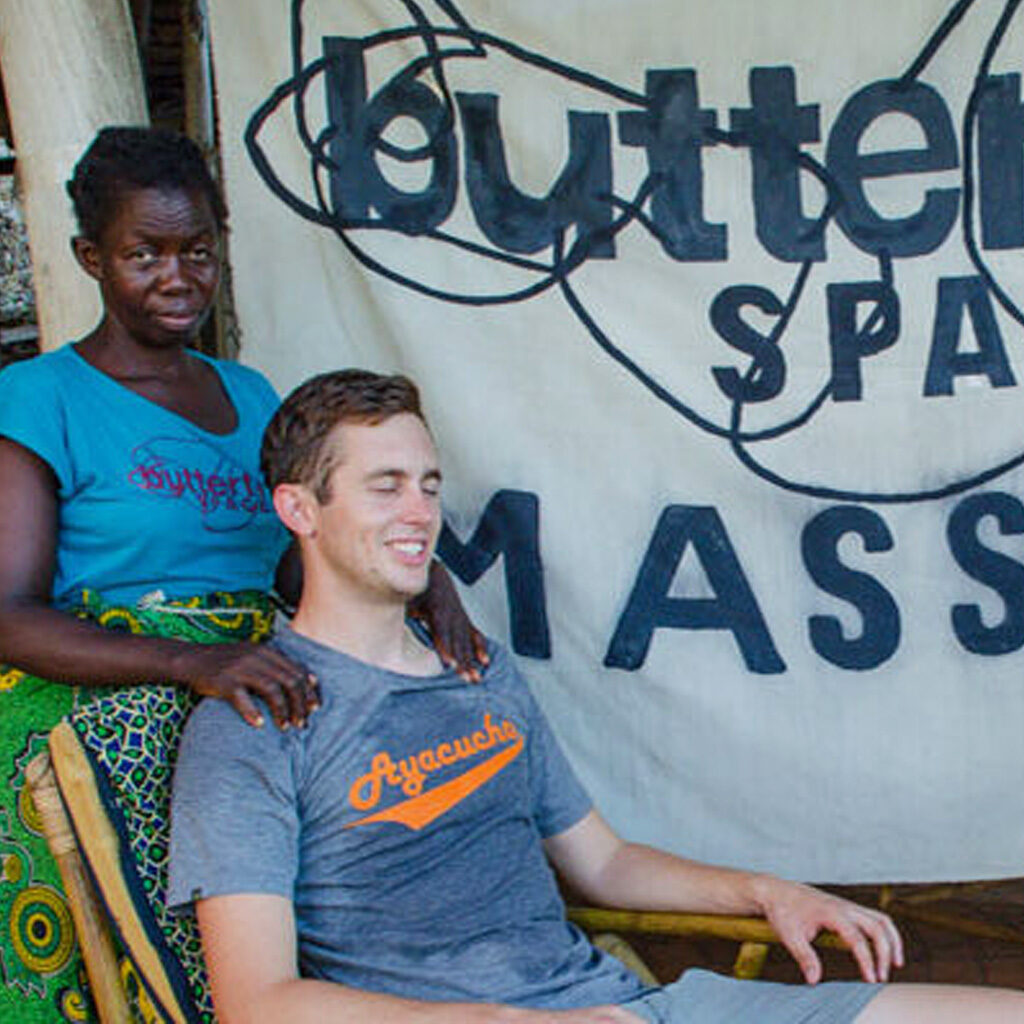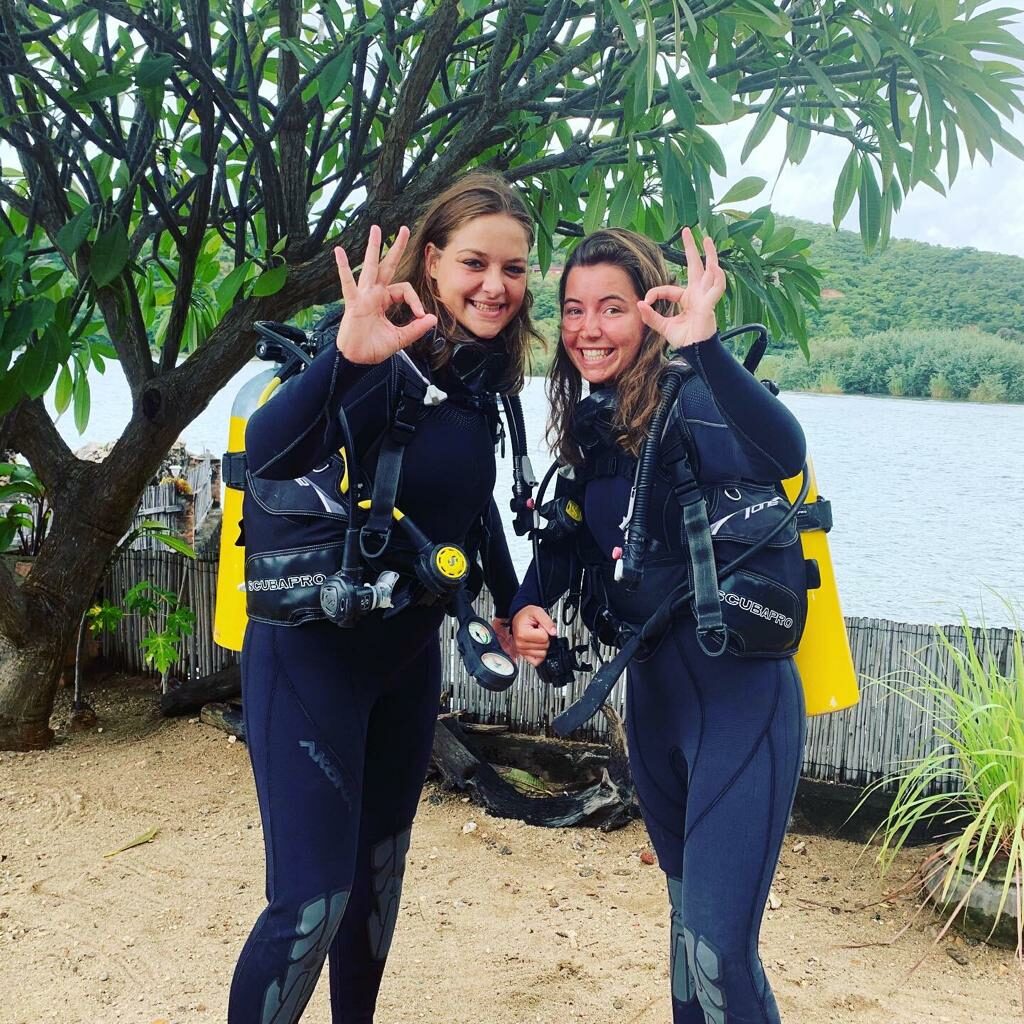 AQUA AFRICA - SCUBA DIVING
Aqua Africa Scuba Diving School is located in Nkhata Bay, right across the bay from Butterfly. The Bay is legendary amongst divers to Africa, for its crystal clear warm water and it's array of tropical fish. It is home to hundreds of species found nowhere else on earth. If you haven't dived before – check out their options for beginners in the PADI Courses section of their website. Their night dives are claimed to be one of the most unique diving experiences on the planet. Prices start from just $55. 
Also at Aqua Africa, you can now discover the underwater world while gliding through the water like a dolphin, and performing thrilling underwater acrobatics on a Subwing board, which consists of two wings mounted together, towed by a boat at a slow and gentle pace. You simply hang on to the wings by your arms and steer by pointing the wings in the direction you want to go! Aqua Africa also offers multiple-day scuba diving safaris to Usisiya, to beautiful dive spots truly off the beaten track. Call Debs on +265 999 92 14 18 Or email [email protected] for more information and to book your diving adventure!
NKHAHA BAY CARVERS ASSOCIATION
The Carvers Association is a collaboration of vendors who work together to provide a support network and fair opportunities to all vendors and tour operators. They offer varied and unique tours and workshops. They also sell beautiful handmade carvings, artwork, and jewelry -upcycled from copper pipes! When shopping, we encourage people to buy from the shops on the hill, and at the roadblock, and not from wandering street vendors! We don't allow people to sell at Butterfly Space, so please report this to us if it happens to you to protect fair business agreement with the association, and for your own peace!
To book any of the following activities, see Uncle Bob or Chabwerra, (head of the association) at the craft shops on the hill, or WhatsApp them on +265994616121
BUNGULU MOUNTAIN DAY HIKE /TRIP. 
Bungulu is one of the highest mountains which you can reach by foot, where you can see a 360 view of Nkhata Bay. Hike through the stunning jungle and enjoy beautiful views over the lakeshore, plantations, and rice paddies, and on a clear day, see Mozambique and the islands in the distance. There is beautiful flora and fauna to enjoy on the way, including beautiful birding. You can either get a motorbike from Chikale to the foot of the mountain (for a half-day hike) or hike from Butterfly Space through Bwalero village on your way to the mountain. From 10$ pp.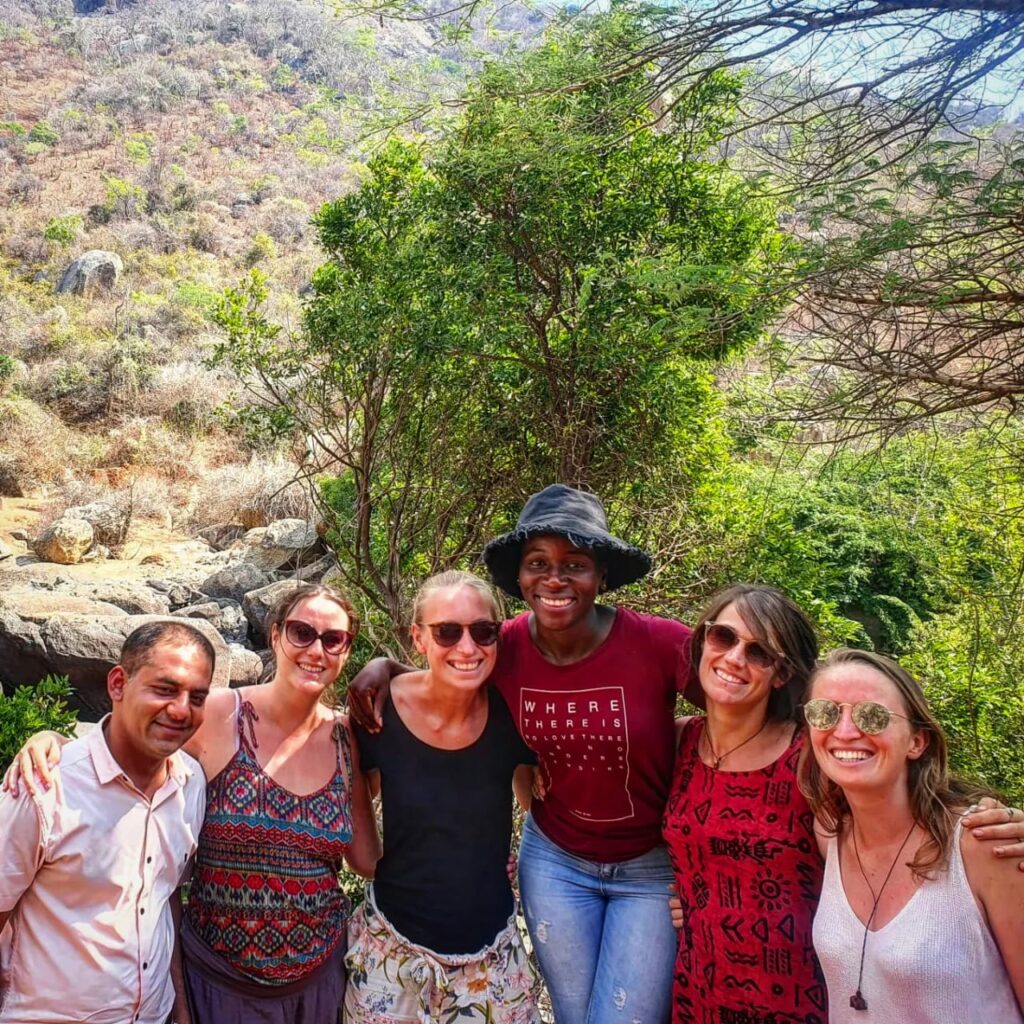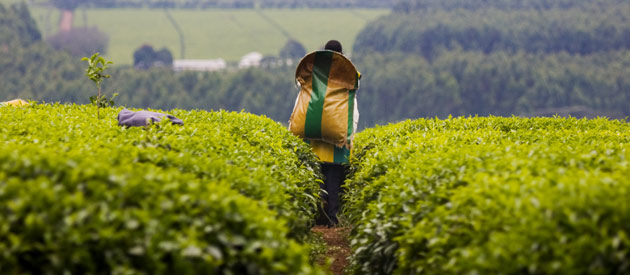 A KAWALAZI TEA AND MACADEMIA PLANTATION TOUR (BY CAR)
Kawalazi Tea and Macadamia Estate are one of the biggest plantations in the Nkhata-Bay district. It is located 43 km Southwest of Nkhata-Bay. Enjoy the beautiful scenery and villages along the journey, stop off at local markets, learn about Tonga culture, and enjoy a local lunch. Charges: MOTORBIKE: 40$ pp, CAR: 60$ pp. (Minimum: 2 people)
Lunch & entrance fees included.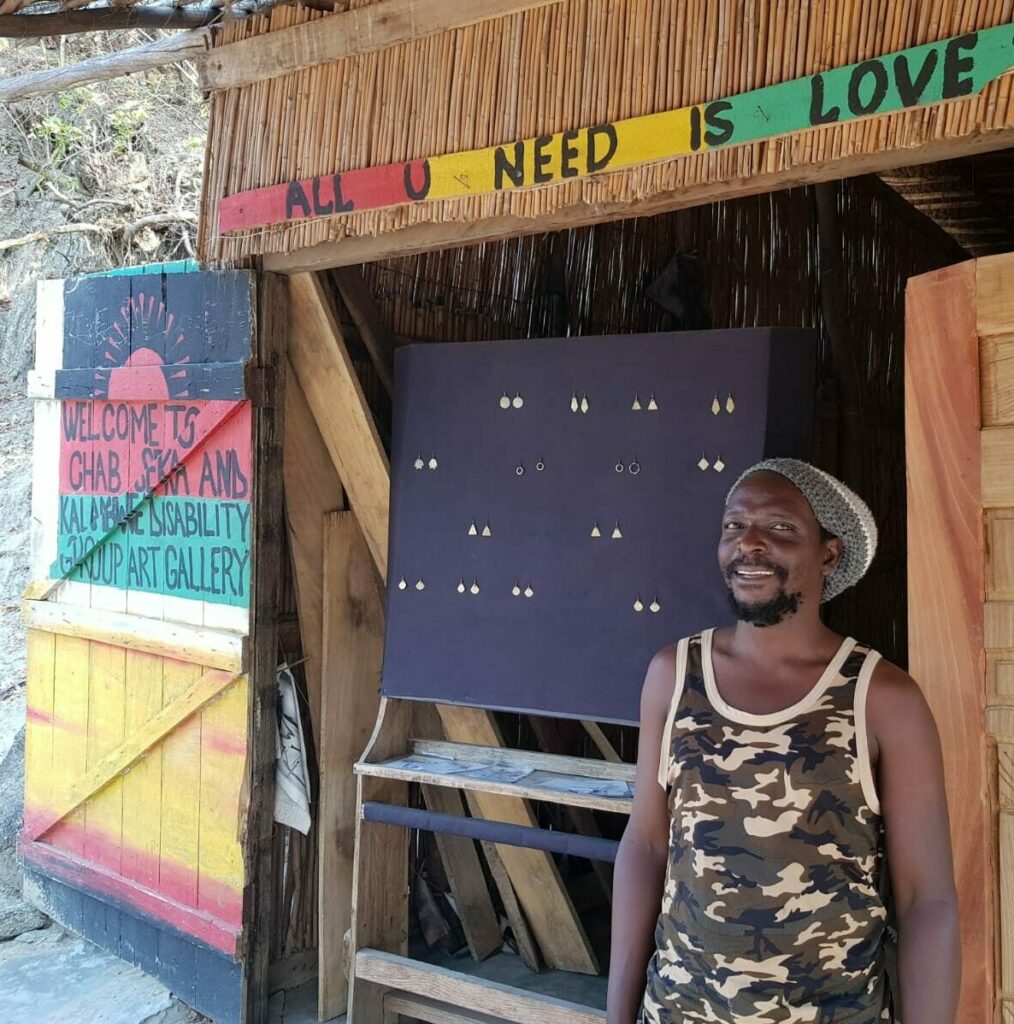 TONGA LANGUAGE LESSONS- Learn how to speak Tonga Language and about the culture: $8 per person (2 hrs)
ART AND CRAFT- Learn how to make your own carving /curios .ie Bawo Game and how to play Charges: $8 per person (2-4 hrs)
TRADITIONAL WITCH DOCTOR VIST- Visit our local village and learn about how witch doctors communicate with the spirit of our ancestors and how they administer charms to patients:
$15 per person (3 hrs)
DRUMMING LESSONS- Learn how to drum traditional and meditative and unique Tonga style beats: 15$ per person (2-3 hrs)
FULL MOON DRUMMING SESSIONS Enjoy listening to traditional Tonga drumming around a bonfire while gazing at stars. We will share stories & share a traditional Tonga dinner: $20 per person
There are so many places to explore in Northern Malawi. We are only a few hours on a ferry from both Zulunkhuni River Lodge and Usisya Beach Eco-Lodge which are truly off the beaten track and unique places to visit.  Mushroom Farm is a little further north (near to Livingstonia) where you can enjoy magnificent views and stunning waterfalls. Along the way you will also find Vwasa Marsh Wildlife Reserve and Nyika National Park, which are well worth exploring. Both Chizimulu and Likoma islands lie off the coast of Mozambique, which can be easily accessed via Nkhata Bay. Visit the beautiful sandy beaches of Chinteche and treat yourself to some luxury accommodation in one of the many stunning lodges there. There is so much to be explored here!
In the South is the magnificent Mount Mulanje and the Zomba Plateau. Visitors can also check out the various music festivals that happen around the country, including Zomba City Festival and Lake Of Stars Festival.