Providing rigorous academic training at an international standard in our pre & primary school and vocational training center.
Our mission "To offer an inclusive education based on fairness and the belief in the diverse talents of each child."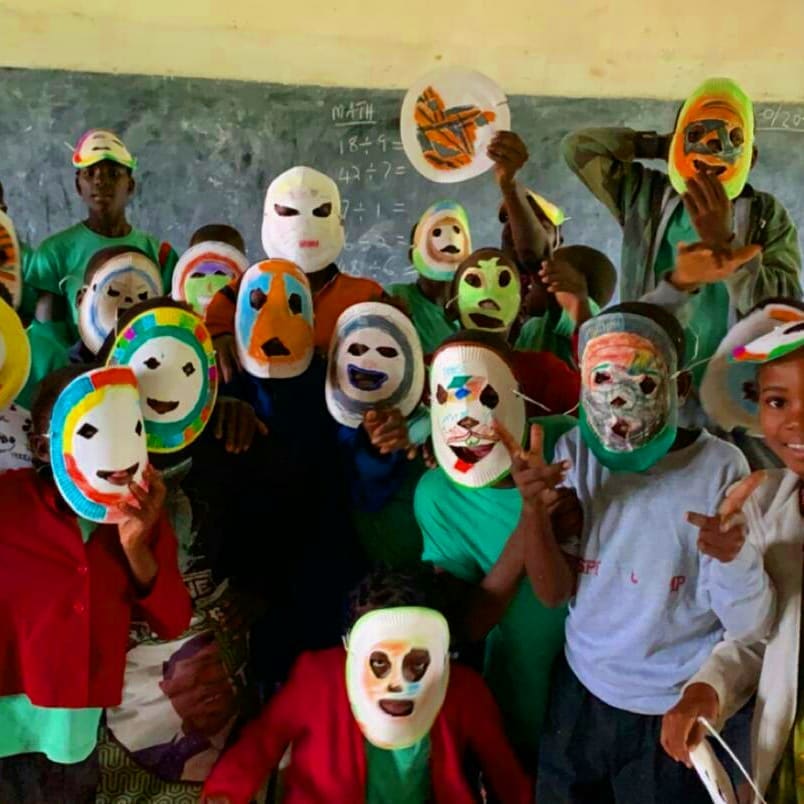 Stepping Stones Primary and Nursery School provides rigorous academic training and a high standard of education. The student body includes fee-paying, scholarship, and sponsored students- creating a fair, inclusive and diverse environment for students to expand their skills academically and socially. The school aims to support students from nursery through primary. Our newly built vocational center offers those that struggle with traditional curriculums an opportunity to learn practical skills. Stepping Stones is community centered around students to nurture and motivate them to reach their full potential. Volunteering and supporting our local teachers is an impactful, meaningful way to contribute if you want to volunteer in Malawi.
Alice Leaper, the founder of Stepping Stones and mother of two Malawian children, built the primary school in 2016, with the vision of providing a quality inclusive education system that benefits all families in the area. It started with just one block for standard 1, and after many fundraising efforts and support from sponsors/ donors, the school now has eight classes from Standards 1-8!
Since then, Alice has driven the school to expand with the support of Francis Roy and Imogen Stuart Fielding, who have also been integral to the development and growth of the school, and together they have implemented structures to develop the school into what it is today, year by year, block by block.
AFFORDABILITY
Stepping Stones is built on a model that is self sustaining and also strives to keep costs low in order to make the school accessible to as many students as possible. 50% fee paying and 50% scholarship ensures not only a diverse student body but an educational opportunity for those who would not normally have access to a high standard of education.
The fees at Stepping Stones are 72,000 MWK per term. As a comparison, the two private primary schools in Mzuzu – the closest town 45 km away- charge 130,000 MWK and 385,000 MWK per term.
Non fee paying students are carefully assessed by the needs and means of families who apply or who are put forward by their community or chiefs.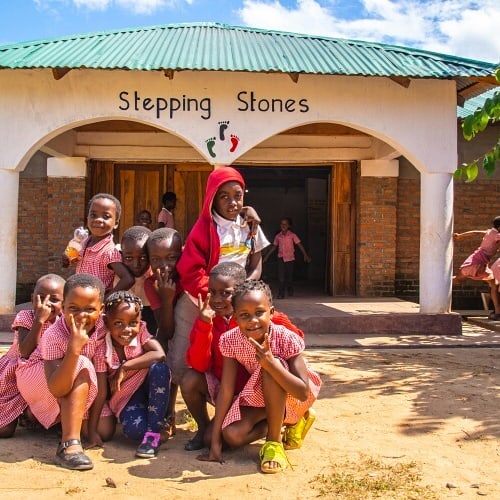 INNOVATIVE MALAWIAN TEACHERS
Stepping Stones' teachers are one of the school's greatest strengths. A Malawian teacher leads each class and receives support from qualified international teacher volunteers. Teachers of the same nationality as the majority of students helps develop a sense of pride in country. This encourages high achievement which is visible in the accomplishments of the teacher-role models. We hire teachers with high potential for growth and learning. It is pivotal that the teachers possess a willingness and openness to
experiment with new pedagogical strategies.
PROFESSIONAL DEVELOPMENT AND MENTORSHIP PROGRAM
The teacher's pedagogical foundations are nurtured and challenged by internationally qualified teachers who act as personal mentors. The mentors serves as assistants to the Malawian leads and offer regular reflective sessions and detailed curriculum planning in a co constructive partnership. Additionally, international volunteers who are not qualified teachers but who have extra-curricular strengths are encouraged to get involved at the school. Examples of this sort of participation include expertise in music, talent in art, or experience coaching sport. This feature of Stepping Stones is beneficial to the students: different cultures can be shared, English can be practiced, new skills can be learned, and new dreams can be imagined.
INTERNATIONAL CURRICULUM
In the first five years of school, the curriculum is based on a combination of the English National Curriculum and the Malawian National Curriculum. For example, the geography, agriculture, and history lessons are focused on the local and national knowledge most relevant to the students' daily lives. English is the language of instruction with the expectation of regularly scheduled Chichewa lessons. In later years, the curriculum becomes more Malawi based as students take national exams at the end of primary school. Without following the Malawian curriculum it would be impossible for them to pass as it is very prescriptive.
The nursery school has just been completed and has now opened in June 2022!
We started off with 12 little ones, and we will increase numbers accordingly.
These children are coming from homes of deprivation, some of which are orphaned, but all of which will benefit from our interactive nursery school. We have had so many toys and books donated, and we have been lucky enough to find passionate teachers, to utilize the newly built bright and engaging classroom.
The early years are crucial to children's development. Most nurseries in Malawi consist of a room, a teacher and 50-80 children. We are able to provide something different, which can start these children off with the early skills needed to develop well.
We are currently looking for sponsors, because we want to ensure we can fully support our kids to make the progress we know they are capable of, to have a daily freshly cooked meal and to have a fun start to their educational journey.
The Vocational Training Centre
We have recently built a vocational training block, situated on-site at Stepping Stones. After following our students through their journey, we realised that we needed to put in place a path for kids who are not academic but have more passion and natural talent in practical skills. When children drop out of school, they often stay home, not doing anything or helping with the family farm and chores. Some start drinking locally produced alcohol or smoking marijuana. Girls can often get pregnant at a young age.
Developing a vocational center means we can hope to provide opportunities and let these young people express their creative and practical talents, and learn a skill so they can succeed in life as many with a formal education do.
We are excited to announce that workshops are under way! We have already started a basket weaving class, and a beauty school. Carpentry workshops are in the process of being set up.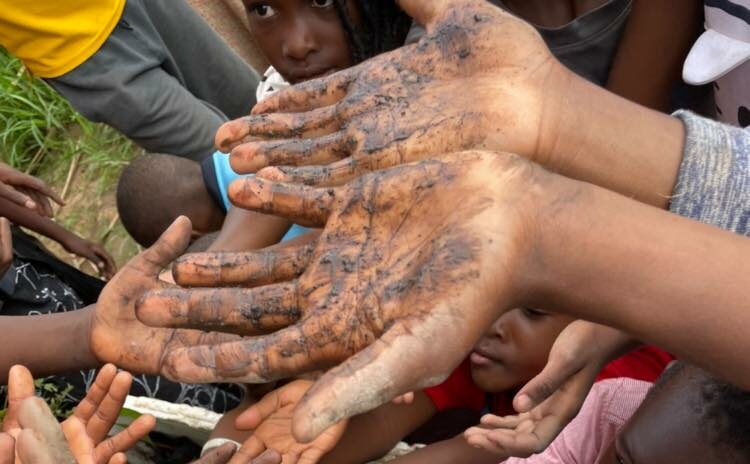 All female students are provided with menstrual pads from Supreme (run by Rosie Woods) to ensure they have the proper information and hygiene materials. Rosie is also helping to set up the beauty school at the new vocational training center.
Stepping Stones has also recently established a partnership with 180.works which is planting millions of new trees in depleted forests, all over Malawi and is working with local communities, providing them with wood alternatives and fuel-efficient cook stoves.
Alongside this, Imogen, does some amazing work in the community, including a feeding program of formula milk for babies. Two babies are being provided for at the moment whose mother died during/shortly after childbirth. The program aligns well with the new nursery school as it helps us identify orphans from an early age. The idea is that they would become Stepping Stones students through the end of primary school. Please follow Stepping Stones on FACEBOOK to see our recent activities and updates!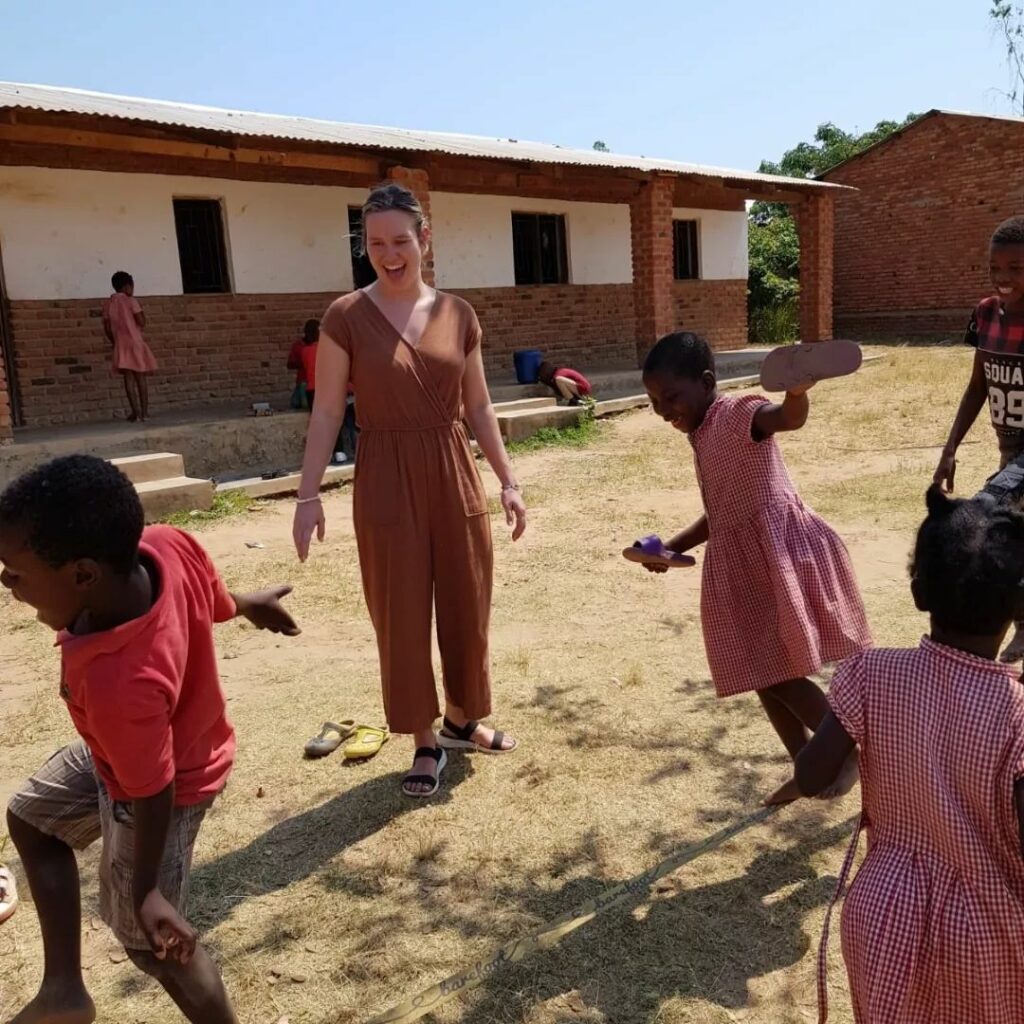 Primary school education is recognised as a primary factor in reducing poverty, helping to advance economic and agricultural productivity for developing countries. It is also known to improve health, reduce infant mortality and morbidity rates. The World Bank recorded more than 50% Malawi's population are living in poverty in 2020, and in 2022 it is still the 5th poorest country in the world.
This provides limited opportunities for the country to escape the poverty cycle. These are problems where education can be the solution!

Our curriculum encourages free-thinking and concept application through a foundational education focusing on the end of primary education exams in upper classes. Beyond school activities, there are initiatives to help address and tackle some of the issues Malawi still faces.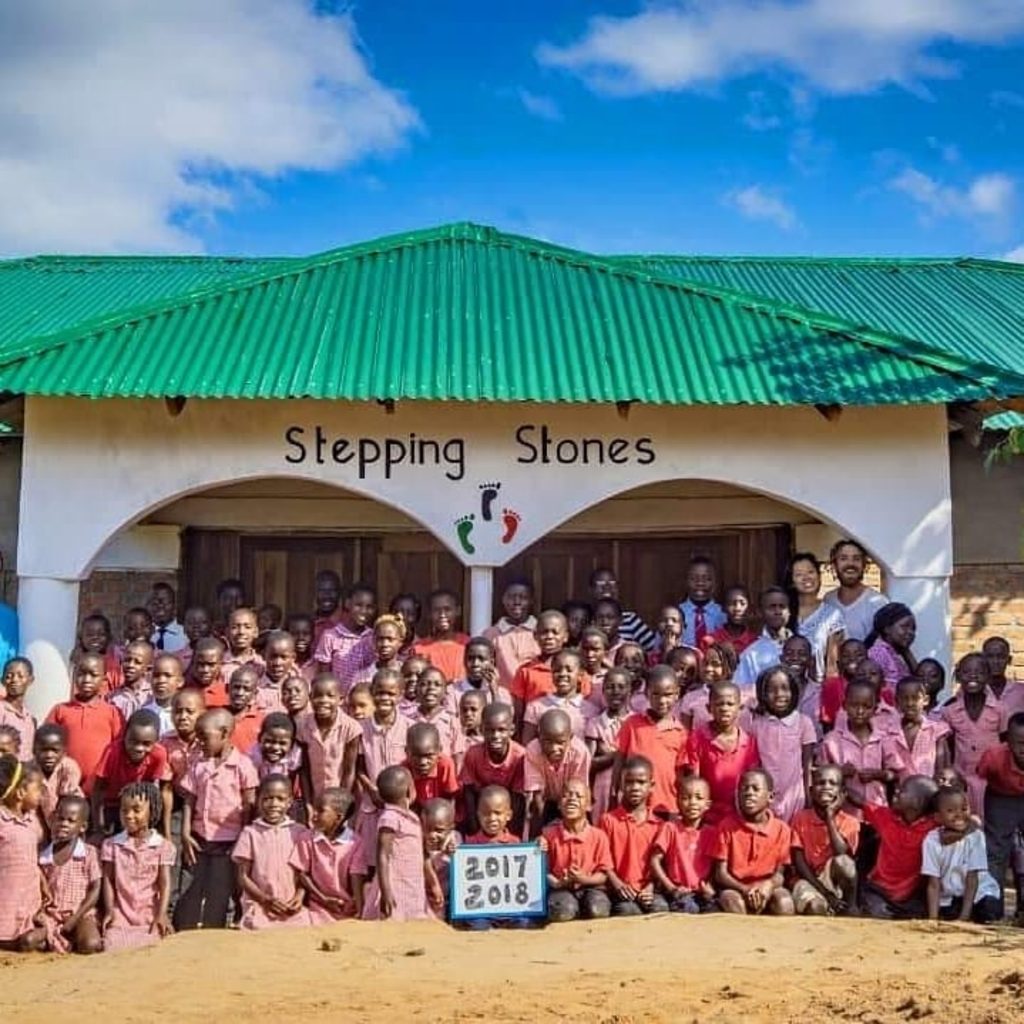 How you can get involved...
Whether you're a teacher or this is your first experience working with children, we have opportunities for you, from sports workshops, special needs assistance & teacher training.
We are always in great need of qualified teachers to offer training to our local teachers and to support progressive education. Volunteers without teaching qualifications can help learners practice English literacy and reading, teach them their talents or inspire them through their background. Stepping Stones promotes uniqueness and welcomes open-minded thinking. We are sure that you will have something special that our students can benefit from.
For qualified teachers:
Take a significant role by offering training to our local teachers and supporting progressive education.

Prepare lessons and support teachers with deliveries.

Set improvement plans for learners with difficulties.

Take responsibility for a class for a specific subject. 
If you are not a qualified teacher:
 Assist teachers in preparing the lesson and teaching students.

Help learners with English literacy and reading.

Help with specific lessons in subjects such as Maths, Science, Arts, Geography, Language, Physical education, Life skills or Agriculture.

Teach small groups of learners with difficulties.

Pass on any of your unique talents to the next Malawi generation of leaders. 

Arts & Crafts

Implement artistic projects (drama, songs, dance, music, painting, etc.). You can use our hall and stage! 

Help with maintenance, gardening, or implementing green initiatives.
In Our Library:
Improving our impressive library by adding and categorizing more books.

Improving our library environment with your creativity or any of your ideas. 

Re-train and monitor library prefects, arrange book clubs, reading clubs & story time.
Lunch Program:
We are feeding an impressive number of students with daily nutritious food. You can help us to improve and diversify the menu or support our kitchen staff. You can teach the children about nutrition and a balanced diet.
School Grounds:
Enhance our school grounds by implementing permaculture plots, gardening, landscaping, playground maintenance & improvements, sports ground, making signposts, fixing the road to the school, etc. 
Communication & Administration:
Improve communication tools, such as posters, handouts, social media, or a website.

Help promotion by taking pictures of our school or our students.

Prepare lessons and support their deliveries.

Setting improvement plans for learners with difficulties.

Take responsibility for a class for a specific subject.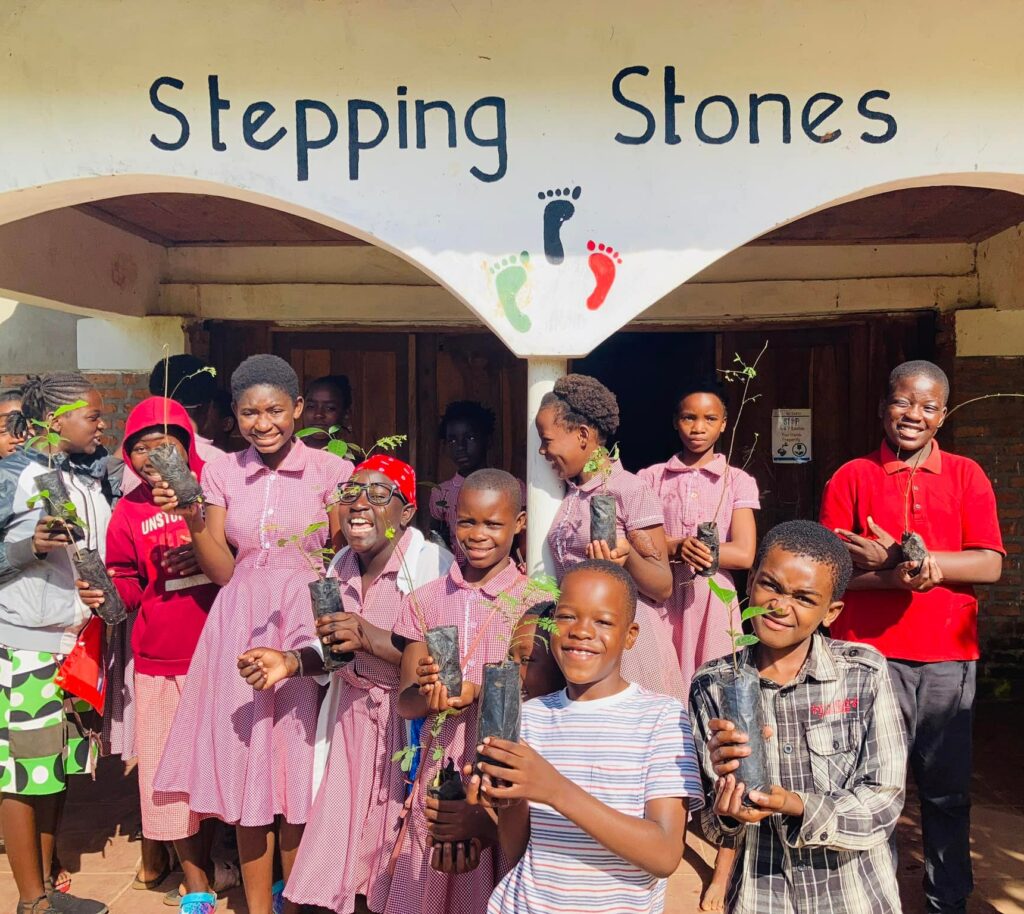 By sponsoring a student, you allow us to continue assisting our community by accepting more free learners. Sponsoring can range from term fees to supporting daily lunches, school supplies, or clothes.
Your donations and support help Stepping Stones Primary School and our students in countless ways:
School fees are £75 per student per term
Daily meals £25 per student per term
Transportation £1500 per term
New buildings Price quotes on request
Materials & Supply, General scholarships, and financial aid
We depend on donations to make us different from other schools. We need support from donators to grow, build new blocks, or acquire new materials. Fundraising for the school is always appreciated.
If you have any of these skills, or other skills that we can incorporate into the projects, please get in touch! 
Volunteering is free of charge, we just ask that volunteers cover their own expenses, and we encourage volunteers to do a fundraiser to help to contribute to the project they work with.